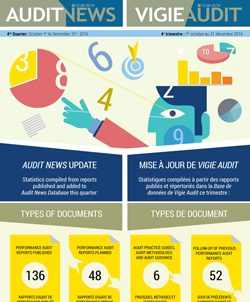 Audit News Bulletin – 24th Edition
To view the Bulletin, please click here.
The Audit News Bulletin is produced quarterly to share knowledge within the performance audit community in Canada and abroad on recent reports and trends in audit practices within selected audit institutions.
For more on Audit News, click here.




---
Please send us any feedback, suggestions and/or improvements to
Audit News at This email address is being protected from spambots. You need JavaScript enabled to view it..