June 6, 2023
Challenges and Practices in Small Jurisdiction PACs Around the World
Research Highlights

A collaborative book published in 2023 - Enhanced Parliamentary Oversight: Promoting Good Governance in Smaller States - sheds light on how legislative oversight is practiced in small jurisdictions around the world. Much of CAAF's guidance for effective public accounts committees (PACs) considers the different challenges and constraints that legislatures face. This book provides an in depth look at the challenges and solutions in small jurisdictions.
Here, we look at a few of the challenges PACs in small jurisdictions face and share some of the ways they are addressed by jurisdictions covered in the book. While we are not advocating for the implementation of each of these practices, we believe they represent interesting solutions to common challenges facing legislative oversight committees in small jurisdictions.
Appointing Layperson Members to the PAC
There are a few reasons why an oversight committee may want to include external or non-elected members among their membership. Citizen members can bring direct representation from those affected by government policies and programs. Lay members are appointed to an oversight committee to bring expertise that may not exist within the pool of elected members. Such expertise is often needed in areas such as finance, accounting, banking, and law.
This is done in a few instances in small jurisdictions where that pool of elected members (particularly backbenchers) is small. In the Caribbean, both Turks and Caicos and Montserrat allow non-MPs to serve on the PAC. This is also the case in Bermuda, and the British Crown Dependencies of Guernsey and Jersey. On the island of St. Helena, both the Chair and Vice-Chair are lay members.
Broadened Mandate
The typical role of a PAC is to provide oversight of government programs and activities after the money has been spent. PACs have traditionally looked at, as their name implies, the annual public accounts of the government. While today most PACs spend more of their time and effort reviewing value-for-money or performance audit reports, this 'after the fact' oversight work remains a core part of their mandate.
Effective financial oversight, however, requires elected members who can carry out this role not only after the money has been spent, but also before it is spent. As a result, some committees have expanded their mandates. For small jurisdictions, this is done to respond to the challenges of maintaining multiple parliamentary committees with a small pool of elected officials. As a result of a 2016 review of their machinery of government, Guernsey amalgamated its PAC with the Scrutiny and Legislation Select Committee to form a Scrutiny Management Committee. This committee – as well as the PACs in Jersey and St. Helena - have a wider focus that includes considering the budget estimates.
Some other practices of note:
In the Solomon Islands, the PAC considers the draft budget estimates in support of the annual appropriations bill.
In the Isle of Man, the PAC holds an oral evidence session on the budget. The treasury minister answers the committee's questions and citizens are also invited to submit questions in advance of the session.
In the Falkland Islands, all PAC members also serve on the Standing Finance Committee.
Selecting a Chair
One way the PAC stands out from most other policy-focused parliamentary committees under the Westminster model is that the PAC is chaired by a member of the opposition. This is the case in Canada and the United Kingdom as well as many other jurisdictions large and small throughout the world operating under the Westminster model. In theory, having an opposition chair the committee allows it to operate independently of government and provide the political will to hold them to account.
While this is the common practice amongst jurisdictions across the Caribbean, it has led to some challenges in recent years stemming from factors that frequently arise in smaller jurisdictions. Chief among these factors is a lack of opposition members to draw on to appoint to the PAC.
In Grenada, there were no opposition members elected in both the 2013 and 2018 elections. Following the 2018 election, a senator elected for the party that formed government was appointed to chair the PAC. The senator eventually crossed the floor to become leader of the opposition.
A similar situation has arisen in Barbados following the 2022 general election where one party won all 30 seats in the legislature. In that case, at the time of publication there was still no chair appointed to the PAC.
These two examples illustrate one of the challenges that can occur in smaller jurisdictions: small legislatures with an even smaller pool of opposition members – or even none at all.
Conclusion
Small jurisdictions following the Westminster parliamentary tradition face unique challenges. Enhanced Parliamentary Oversight: Promoting Good Governance in Smaller States provides many interesting observations on how these small jurisdictions and their PACs have adapted to address these issues. We've outlined a few of them here, but if you would like to learn more give the whole book a read.
This article draws entirely on the research contained in Enhanced Parliamentary Oversight: Promoting Good Governance in Smaller States. In particular, it relies on observations contained in the following chapters: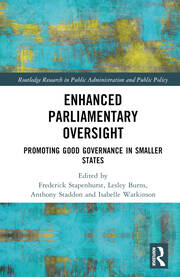 Chapter 4:

Public Accounts Committees in Small Jurisdictions in the British Isles & Mediterranean Region


Author:

Anthony Staddon

Chapter 6:

Public Accounts Committee in Nordic Small Legislatures


Authors:

Isabelle Côté, Isabelle Watkinson, Gitte Korff

Chapter 7:

Public Accounts Committees in the Caribbean Region


Author:

Anthony Staddon

Chapter 8:

Public Accounts Committees in Small Pacific Island States


Authors:

Kevin Deveaux, Anthony Staddon, Isabelle Watkinson
CAAF acknowledges the work of these authors along with the other contributors to the publication. We would also like to acknowledge the efforts of Rick Stapenhurst who acted as chief editor and led the overall project. CAAF contributed a chapter on small provinces and territories in Canada, and also reviewed other chapters of the publication.
Enhanced Parliamentary Oversight: Promoting Good Governance in Smaller States will be published on July 24th, 2023 and can be accessed here.

Author
James Oulton, Deputy Director, Oversight, CAAF
You can send your questions and comments on this article to the author at oversight@caaf-fcar.ca.